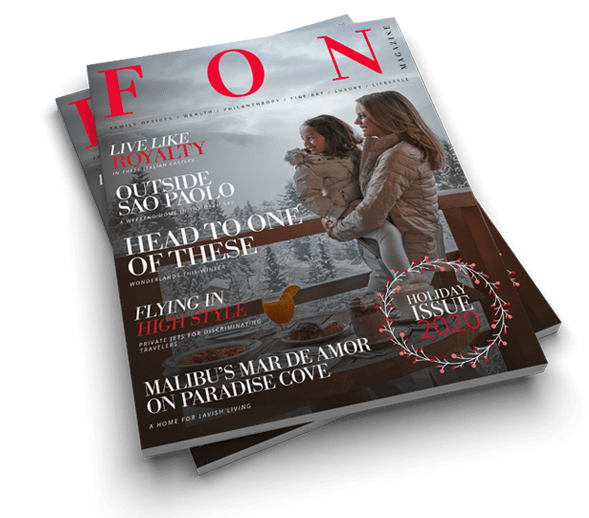 Family Office Networks Publishes Holiday Issue of Its Luxury Lifestyle Magazine
Limited Free Subscriptions & Advertising Opportunities Available
Palm Beach, FL – (December 16, 2020) – The 2020 Holiday Issue of Family Office Networks' luxury lifestyle magazine is available now featuring coverage of Aston Martin's DBX, Winter Skiing: Head to One of These Wonderlands This Winter, Flying in High Style – Private Jets for Discriminating Travelers, How The Structure of Family Offices Are Evolving to Meet The Growing Needs of The UHNW, and more. In addition to its popular flagship magazine, Family Office Networks soon will launch FON Europe to spotlight European travel destinations, luxury products and services, beauty and fashion, art and philanthropy.

To celebrate the Holiday Issue, Family Office Networks is offering a limited number of free subscriptions to family offices, private investors, and industry influentials for both the digital and hard copy versions. To request this limited-time offer, please provide your contact details and download the magazine app, which is available in the App Store for Android and iPhone. A limited number of advertising opportunities also remain available.

"FON Magazine reaches the top 4 percent of the U.S. and global population with an average household income of $5 million+ and average net worth of $100 million+. As our membership base has grown, we have had an overwhelmingly positive response to FON Magazine from luxury brands and it is great to be working with these companies to introduce world-class opportunities to our families via exceptional magazine content," said Andrew Schneider, Publisher of FON Magazine and Founder of Family Office Networks.

To inquire about advertising opportunities in FON Magazine, contact Andrew Schneider at [email protected], [email protected] or [email protected] To submit editorial ideas, contact [email protected].
About Family Office Networks

Family Office Networks is the premier global community for families to share information and intelligence. The team works with a select group of top tier investment managers and sponsors who offer substantial families' access to stellar investment opportunities in areas such as real estate, venture capital, private equity, and hedge funds. In addition, Family Office Networks shares timely thought leadership on topics related to portfolio management, philanthropy, multi-generational wealth management, compliance and regulation, risk management, insurance, training and education. The website www.familyofficenetworks.com is the hub of Family Office Networks with 200,000 users, including 10,000 family offices, and is a go-to resource for news related to family offices.